New Base Update
All internal block walls have been completed. Joinery work should be near completion by the beginning of September and the electric meter should finally have been installed. Plumbing, and electrical designs have been done. Once all this work is complete team members will be cleaning the interior and painting walls, doors etc. Work is on-going on finding funding sources for a heat pump, solar panels, and storage battery. Several discussions regarding finishing the drainage, rear garage access and parking area have taken place and pricing for the necessary materials, and work is underway.
Hopefully we will soon be able to discuss how and when we start using the building.
Lloyd Land Rover Kelso
BSARU are delighted to announce we are Lloyd Land Rover Kelso's chosen Charity of the Year. Lloyds in their announcement on their social media wrote: 'The dedicated, local volunteers of the BSARU exemplify the spirit of community service and we will be raising crucial funds to help get their new base up and running, whilst spreading awareness of the remarkable work they do to keep us all safe. Keep an eye on our socials for updates and how you can get involved. To find out more about our exciting partnership, please visit https://bit.ly/455Uh0u
Team Activities
At the Border Union Show the team again shared a pitch with St John Scotland who have supported the team over several years. The team stand was visited by Peter Douglas, Chairman of the Border Union.
Team members covered events including the Carham Vintage Car Rally, Roxburghe Rocks, the Cycling Marathon, and Duns and Coldstream rideouts.
The team's fund raising Poacher Run takes place on the 2nd of September. For entry information contact https://www.sientries.co.uk/event.php?event_id=11999.
Overnight Search at Hawick
At 3.00 am on the 2nd of August the team was called out to Hawick to help in the search for a missing woman. Sadly around 2.00 pm the body of the missing woman was located. Our sympathises go to family and friends.
History of the Team
Sixty Years Strong a History of The Border Search and Rescue Unit 1963 – 2023 is published this month.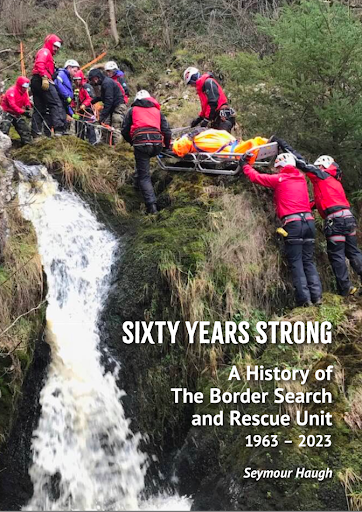 Publication has been supported by the Scottish Mountaineering Trust. Along with considerable photographs, the book details the team's initial formation, and early days to the present. Mixed in with accounts of exercises and incidents, is information on equipment, activities of the team, involvement with other services, and the development of long distance walking routes in the Borders.
Copies of the book can be obtained by emailing the team. Price £15