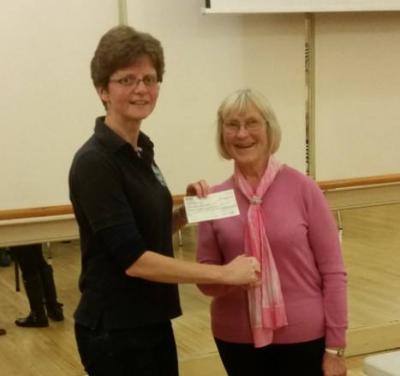 Angie Kinghorn receives a cheque for £1167 from the East Lothian Ramblers and Hillwalkers, who held a ceilidh last week at the Haddington Corn Exchange to raise funds for BSARU. She and fellow team member John Harrison attended their AGM, where as well as being presented with a cheque, they gave a brief presentation on the work of the team.
At the ceilidh last Friday night, The Haddington Corn Exchange was full of eager and energetic dancers of all ages, and Bette Morrison skillfully guided everyone through the dances, accompanied by Jimmy Wilson who provided the music. A raffle, silent auction and donation buckets all helped to raise the amazing sum of £1167 for our team, which is much appreciated as we are replacing a team vehicle this month, and also in early negotiations for land for a new team base.
It was also a great night out!