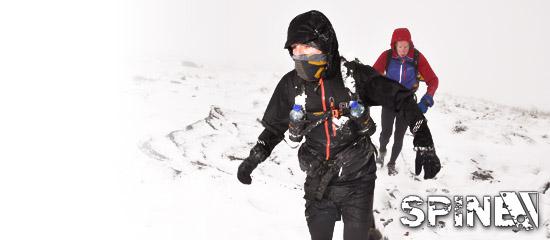 The MONTANE® Spine Challenger is a non-stop, 108 mile race between Edale and Hawes with a time limit of 60hrs. This challenging and extremely technical section of the Pennine Way is a physically and psychologically demanding route that demands concentration, good physical fitness, resolve and respect. The MONTANE® Spine Challenger is a notoriously difficult event in its own right and should be considered as having a similar degree of difficulty as the longer MONTANE® Spine Race.
From appearances alone 60 hours looks like ample time to complete this course. However, appearances can be deceptive. The rugged and very technical nature of this race is mentally taxing, as you have to constantly be aware of foot placement in icy conditions, weather systems, navigation, available daylight and self-management.
In the 4 previous editions of the race competitors have faced storm force winds, snow, extreme ice, bogs, fog, hail, mud and almost anything else you can think of!
Our very own Damon Rodwell and Duncan Buchanan have signed up to represent BSARU amongst a group of like minded Mountain Rescue team members from other Pennine-Way related teams in the first everMontane® Spine® Mountain Rescue Challenge.
Individuals will be raising funds for their respective teams, in one of the toughest winter races you can find. Not only do these individuals volunteer their time 365 days a year, they are committed to raising awareness and funds for an essential emergency service.